Your workspace is almost complete with the "Office Essentials" by L&Z. So that you can get started right away, we offer you these 3 products as a set at a special price:
The Sinus trestle
The Sinus trestle table legs are made out of a single piece of tubular steel, which is bent into its ideal static shape. Due to the optimal structural design of the steel tube, the Sinus is extremely stable, but with the minimal use of material, it is light and easy to handle. The open shape of the trestle table legs allow lots of legroom, and since the table top is detachable, the length of the table can be easily adjusted, changes in room layouts can quickly be made, and they can be stacked to save space. If you want to screw the tabletop on permanently, there is a hole drilled underneath the support pads.
• 2 bent steel pipes, round, ø 25 mm
• Powder coated or chrome-plated
• Including black height-adjustable polyamide bases and tabletop support pads
• Measurements Sinus M: H 72 × L 63 × D 36 cm
• Measurements Sinus L: H 72 × L 74 × D 36 cm
• Weight (per pair): 9 kg
• Maximum loading: up to 300 kg
• Made in Germany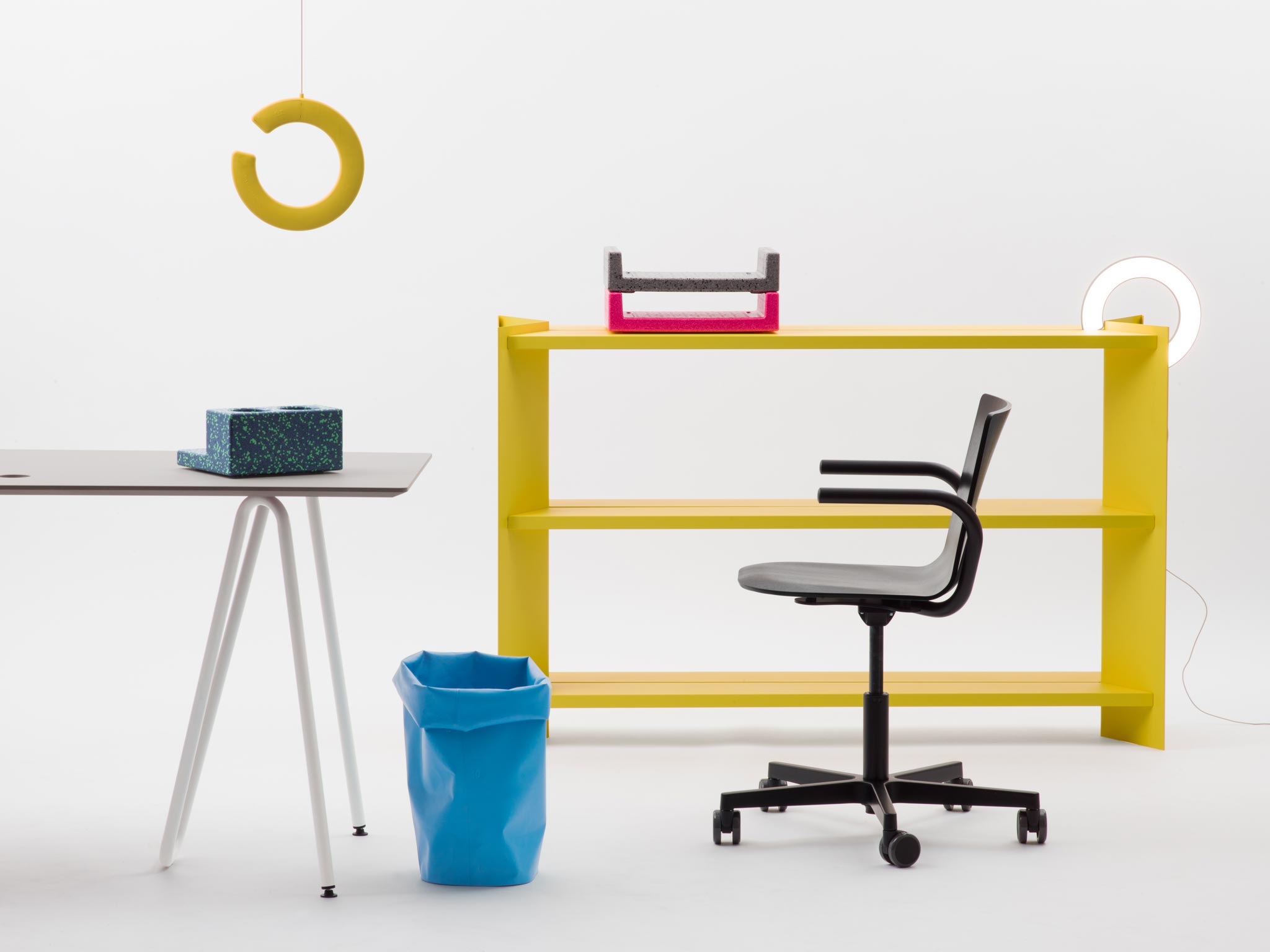 The Roll-Up paper bin
The Roll-Up M bin by Michel Charlot was presented with Iconic Design Award 2016 "Best of the Best". It can be playfully rolled up like a pair of jeans. In this charming way, it adapts to various needs. By folding the user determines the desired shape. Its holding capacity varies between 10 litres and 30 litres. Despite its flexibility, the Roll-Up stands securely on the ground. The material has a pleasantly rubberlike feel and is extremely robust. Thanks to all-around welding, the Roll-Up is completely waterproof. It is also sui­ted as a waste paper and toy basket, planter or universal storage unit.
• Dimensions: D 39 × H 54 cm
• Material: Non-P PVC (free of plasticizers)
• Holding capacity: 10 – 30 L
The Help universal lamp
The Help universal lamp designed by Berlin based Designer Rupert Kopp can be placed anywhere it is needed thanks to its hook-shaped form and 360 cm long cord. Kopp has created a seemingly graphic lighting tool that invites us to improvise. It can be used as a workplace lamp, wall lamp, pendant light, clamp light, but especially as a lamp that defies classification. With a lighting capacity of 1900 lumens, rooms are powerfully lit. Thanks to the newest LED technology, Help is also highly energy efficient and energy saving. The light of the luminaire can be dimmed down to 10% and turned on and off by slightly touching the touch dimmer. Due to its scratch resistant Softtouch lacquer, the object is especially graspable and is pleasant to the touch.
• Dimensions lamp: Diameter 26 x Height 2 cm
• Cable length: 360 cm
• Material: ABS plastic, soft-touch laquer
• LED: 16W, energy efficiency class A
• Dimming range 10%–100%